Robotic Process Automation (RPA) has gained high attraction in recent research and in industry. This article will briefly explain what RPA is, how it can be integrated, and for what it can be used.
Definitions of RPA
Robotic Process Automation (RPA) is one of the most emerging issues in process automation. Therefore, many different definitions exist. One of the most used definitions in research is the following [3]:
RPA as an umbrella term for tools that operate on the user interface of other computer and application systems in the way a human would do. RPA aims to replace people by automation done in an outside-in manner.

Van der Aalst et al. (2018). Robotic Process Automation, Bus Inf Syst Eng, Springer Wiesbaden.
In industry, a slightly different definition is used. The definition of Gartner Inc. is more focused on the included term Robot. More precisely the acronym: Bot. This shall clarify, that RPA is independently acting software [2]. In conclusion, RPA represents a software agent that performs different tasks on applications systems to deliver information without accessing the application system itself. In the focus of RPA are work processes with a low rate of complexity, but a high rate of repetition.
Technological ways of integrating RPA
For most enterprises, it is impossible to integrate all data into a single system, because companies have many completely disconnected systems – the so-called Silos. RPA ensures that information is entered into multiple systems with the aim of maintaining data consistency [3].
It is interesting to see how the technology is structured, and how RPA can be integrated into the IT architecture, as well as to see how RPA communicates with other applications. The relevant RPA software now offers different ways of accessing the applications to be automated [4]:
Automation via the User Interface (UI).
Using existing Application Programming Interfaces (API).
Direct access to operating systems and underlying Databases.
Control via Screen Scraping. However, this is rarely used, as when the fields on the interface move, the agent can no longer process them.
Areas for using RPA
The RPA processes for automating are differentiated according to the degree of their complexity. A distinction is made between three types of processes:
routine tasks,
structured tasks,
unstructured tasks.
Especially for the first two types of processes, there are already several examples of successful RPA applications. The degree of complexity has to be always in mind when elaborating processes for RPA. Generally, to understand the relevance of this technology you have to consider the following two aspects [5]:
the case frequency, and
the different types of cases.
According to [1], (traditional) automation aims to focus on the most common case types with a high frequency. On the other side, there are cases that are so rare, that automation would be too expensive, which are better processed by humans. The processes in the area in between are especially interesting to be supported by agents which are called RPA candidates [6].
RPA technology can be used across different sectors and industries. The main focus is on the service and trade sector, which is also confirmed by published case studies, many of which come from the telecommunications, finance, health and logistics sectors. Of course, this also includes parts of the industrial sector, for example in some general departments such as controlling, or human resources. But also all areas, who interact with customers and perform repetitive tasks [7]. The focus of RPA changed in recent years to create a digital workforce overall industries. Regardless of the sector and the industry, RPA is used mainly in connection with ERP systems to fill out masks and extract data [8]. RPA has been on a rise in recent years as companies are constantly looking for ways to reduce costs and connect quickly and easily to different systems and applications. As a result, the aim is to increase the ROI of the company immediately.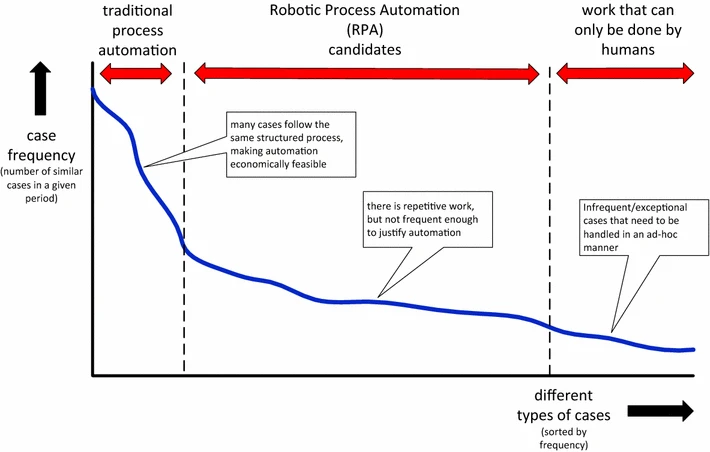 Important Tools for RPA
On the market there exist several RPA vendors like UiPath, Softomotive, Kryon Systems, Blue Prism, Automation Anywhere, and Automation Edge, OpanSpan, WorkFusion [9]. According to Forrester Inc. the following providers are classified as leaders [10]:
Blue Prism is a firm focusing on enterprise RPA.-
Automation Anywhere is a software provider that develops single RPA solutions.
UiPath is a platform for developing RPA processes. It is a very often used tool to start with RPA.
References
[1] Le Clair C (2017). The Forrester wave: robotic process automation: the 12 providers that matter most and how they stack up. Forrester, Cambridge, Business & Information Systems Engineering, August 2018, Volume 60, Issue 4, pp 269–272.
[2] Tornbohm (2017). Gartner market guide for robotic process automation software. Report G00319864. Gartner
[3] Van der Aalst et al. (2018). Robotic Process Automation, Bus Inf Syst Eng, Springer Wiesbaden.
[4] Ilker Met et al (2020). Transformation of Business Model in Finance Sector with Artificial Intelligence and Robotic Process Automation, in: Digital Business Strategies in Blockchain Ecosystems. ISBN 978-3-030-29739-8, Springer Switzerland.
[5] Bing Liu (2007). Web Data Mining: Exploring Hyperlinks, Contents, and Usage Data, p. 7
[6] Cowie, J., & Lehnert, W. (1996). Information extraction. Communications of the ACM, 39(1), 80-91.
[7] Ferrara, E., De Meo, P., Fiumara, G., & Baumgartner, R. (2014). Web data extraction, applications and techniques: A survey. Knowledge-based systems, 70, 301-323.
[8] Iocchi, L. (1999). The Web-OEM approach to Web information extraction. Journal of network and computer applications, 22(4), 259-269.
[9] Johnson, F., & Gupta, S. K. (2012). Web content mining techniques: a survey. International Journal of Computer Applications, 47(11).
[10] Kasemsap, K. (2016). Mastering Web Mining and Information Retrieval in the Digital Age.